Rita1652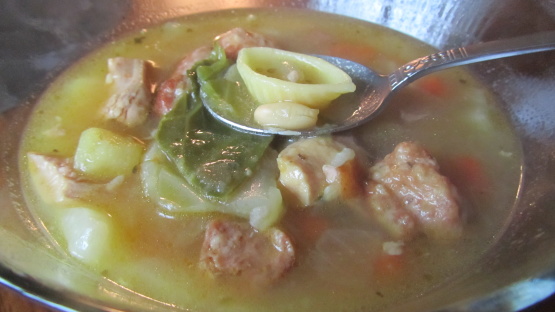 This recipe is from week seven of my food blog, "Travel by Stove." I am attempting to cook one meal from every country on Earth, and Andorra is my seventh stop. This one-pot dish is called "The National Dish of Andorra." it's very rich and fatty, so serve it with a lot of bread.

Hearty! I used Broth I had canned from free range grass fed chickens and cows. I added one large carrot diced, 1 diced onion, parsley, oragano, bay leaf, saffron. Made for My Food Odyssey ~ May and June 2013 http://www.food.com/bb/viewtopic.zsp?t=391006&postdays=0&postorder=asc&start=0 Thanks
Rol the raw sausage into one- or two-bite sized balls.
Rinse the dry beans in cold water.
Meanwhile, cook the sausage balls over medium heat.
Dice the ham.
Put the beans, sausage, ham, chicken and bones into the pot with 8 cups of water.
Bring to a boil, then reduce heat and let simmer, covered for two hours. The chicken should be very tender, almost falling apart.
Remove the bones and bring the remaining stock and meat back up to a boil (if there isn't a lot of liquid you can add more water).
Add the cabbage, potato, rice, pasta shells, garbanzo beans and salt and pepper.
Cook for another 30 minutes, or until the potatoes and rice are tender.