Andorran Cunillo (Rabbit in Tomato Sauce)
Satyne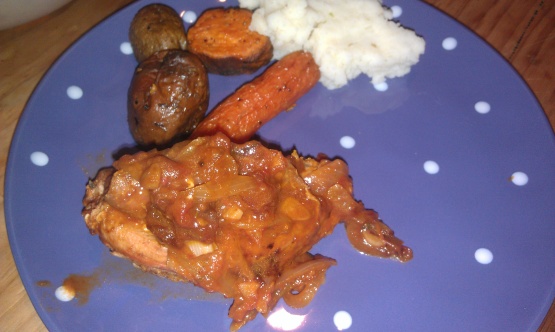 Entered for "My Food Odyssey". I found this recipe on "The Tour Expert" website as a typical dish from Andorra (Catalan cuisine).

Top Review by Satyne
This was quite nice, I did find that the liquid evaporated a bit too quickly (at the one hour mark, it was nearly dry) so we added some more wine and stock to moisten it up. I think the cooking time was a little too long for the amount of sauce as the rabbit was a little dry. Otherwise, the sauce was a lovely flavour and it looked great. Made for My Food Odyssey June 2013
Wash the rabbit and rub with a little vinegar then joint and cut into about 15 serving pieces.
Add olive oil to the base of a large cast iron casserole dish and fry the rabbit in this until nicely browned. Remove the meat with a slotted spoon and set aside.
Add the garlic, onion and tomatoes to the pan and fry gently for about 5 minutes.
Add the bay leaf, thyme and oregano. Now add the white wine and water and increase the heat so the mixture comes to a boil.
Reduce the volume by about half then add the rabbit and season with salt and freshly ground black pepper to taste.
Reduce to a simmer, cover securely and cook gently for about 90 minutes, or until the rabbit is tender.