Andes Chocolate Mint Cookies
Junebug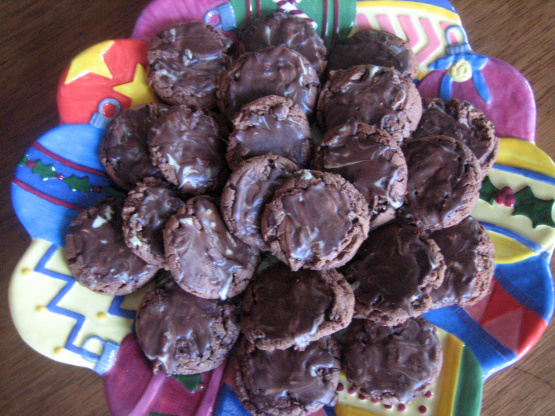 These were TOO good!! I used 2 cups AP flour 1/2 wheat (I try to sneak it in when I can). Turned out great, almost brownie like. My kind of cookie! We only had Andes Crème de Menthe chips on hand, so I used those which took a little more work. I'm definitely going to use the regular mint candies and upping it to a whole one instead of half. The more gooey mint, the better! I've always made the recipe from the back of the Andes Chips for Christmas, but am replacing it with this from now on. My 2 daughters both rate this as "Awesome". Thank you so much for posting this gem!
Heat oven to 350°F.
Over low heat, combine butter, sugar and water.
Heat until melted and add chocolate chips until partly melted.
Remove from heat and stir.
Pour into large mixing bowl.
Let stand 10 minutes to cool slightly.
Beat in eggs one at a time on high speed.
Reduce mixer to low speed and add flour, salt and baking soda.
Beat until well-blended.
Chill one hour (dough is almost liquid before chilling but hardens and is easy to shape after chilling).
Roll into balls, place two inches apart on parchment paper-lined baking sheets.
Bake for 10 minutes.
Place an Andes Mint half on top.
Allow to melt slightly and spread with a spoon.