Andalusian Rice Salad (Ensalada De Arroz)
Annacia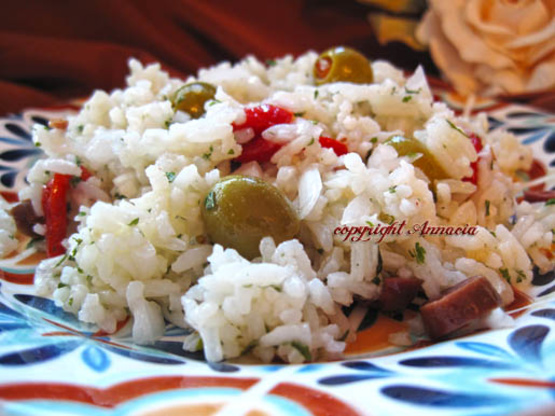 From: http://www.gourmed.com "The piquillo pepper is a variety of chili traditionally grown in Northern Spain over the town of Lodosa. Its name is derived from the Spanish for "little beak"(Wikipedia)

Used home raised Poblanos and Beaver Dam peppers we roasted & peeled and somehow a cup of red beans ended up in the bowl too - made for a FABULOUS side for our grilled blacktip shark Baja tacos!. Keeper recipe - the beans added a heartiness that was nice but will make next time without. Delicious - thank you for posting such a winner!
Bring 2 cups of water to the boil. Add the rice and a pinch of salt. Cover and cook slowly for 18 -25 minutes, until rice is tender. Cool the rice.
Make a vinaigrette sauce by combining the olive oil, vinegar, garlic and onion. Season to taste with salt and pepper.
In a bowl combine the rice, with the vinaigrette sauce, peppers, parsley, and olives.
Serve cooled.