Annacia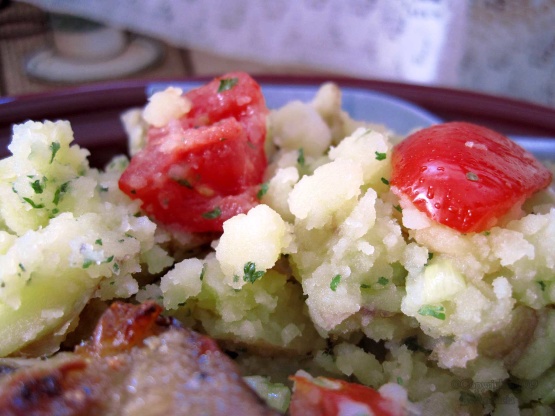 You'd be crazy to go to an Andalusian tapas bar and not order papas alinas (marinated potatoes). These are shallow bowls of diced yellow potatoes tossed with sweet white onions, green peppers, and sometimes tomato and tuna, then generously bathed with a good olive oil and sherry vinegar. The secret is the texture; the potatoes are slightly mashed rather than diced so they absorb the dressing better. Another secret is to use the best possible olive oil and be generous with it.

I much prefer the oil and vinegar potato salads to the mayo soaked ones. These have so much more flavor and character. I used white wine vinegar in place of sherry because I like it better and fresh "on the vine" tomatoes. A perfect summer salad. Made for 1-2-3 Tag.
Place the potatoes in a medium-size saucepan, add enough cold water to cover them by 2 inches, and bring to a boil over medium-high heat. Reduce the heat to medium and cook the potatoes, partially covered, until they are completely tender when pricked with a skewer, 30 to 35 minutes. Drain the potatoes. When just cool enough to handle, peel the potatoes and cut them into a very fine dice.
Place the diced potatoes and the onion, Italian pepper, tomato, scallion, 1/3 cup of the olive oil, and 6 tablespoons of the vinegar in a bowl and stir to mix. Season with salt to taste. Toss everything together, crushing the potatoes slightly, so that they are half mashed. Let the salad stand for about 2 hours to absorb the dressing. Taste and add more vinegar as necessary.
To serve, spread the potato salad on a serving plate, sprinkle with parsley on top, then drizzle the remaining oil over it.