Derf2440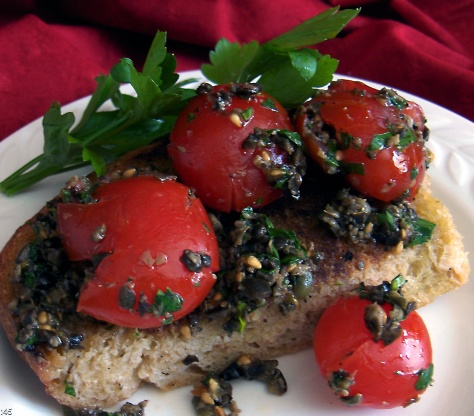 Have you got the Andaljucian crunch bug? You will after tucking into this. Perfect for a pre-dinner nibble or casual snack.

Just made half a recipe, it was good but a little too oily for us and difficult to eat as an appitizer, in the end we resorted to knife and fork. The taste was lacking something, not sure what, they did look pretty and we liked the mix, maybe my cherry tomatoes were too big. I'll try them again and perhaps add a little heat, thanks for posting.
Place the tomatoes in a large bowl and with your thumb forcefully flatten each tomato so the flesh squasheds and the seeds spill out.
Mix in the olives, capers, 1 Tbs of the olive oil, the parsley and some salt and pepper.
Set aside at room temperature for at least 30 minutes.
Half the bread horizontally and cut each halve into 4 even sized pieces.
Preheat a heavy non stick frying pan.
Brush the cut surface of the bread with a litle oil and cook in the hot pan for 3-4 minutes until golden brown and a little charred.
Cut the garlic clove in half and rub the cut surface over the toasted side of the hot bread.
Pile on to a serving platter and casually spoon over the tomato mixture.
Serve while still slightly warm.