Anchovy & Sun-Dried Tomato Bruschetta
Bergy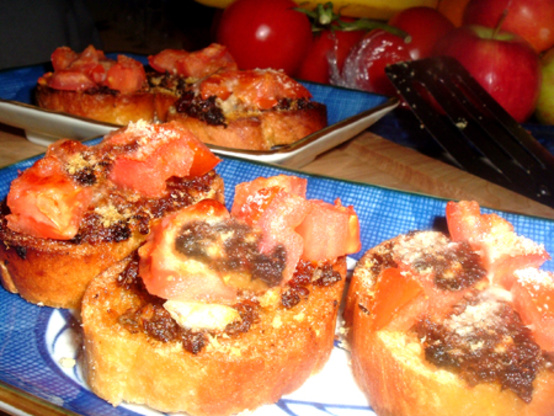 I was looking at Dorothy Parks Crostini recipe (it's very good) and thought no I'll add a few ingredients and make bruschettas. This recipe is the result of guess and by golly and by golly it is good (my opinion). The nice thing is if you plan it right they take seconds to put together before serving. Make the toasts well in advance and the spread the day before. I store my opened Sun dried tomatoes in oil in the fridge - If you do this too use the congealed olive oil in the jar to brush on the toast MM
Slice the bread and very lightly paint with the olive oil and toast (dry) the slices in the oven 300°F for approx 20 minutes or until the slices are crisp dried.
I do this well in advance and keep the dried toasts in an air tight container so you always have some on hand, or you can buy ready made ones.
In your food processor or hand held chopper attachment put in: sun dried tomatoes, anchovies,garlic salt& pepper, and hot sauce.
Chop until you have a very fine spreadable mixture, let stand for at least 1/2 hour.
I make mine up a few hours in advance.
Spread the mixture on the dry toasts.
Top with fresh chopped tomato.
Sprinkle with cheese of your choice.
Place in 375°F oven for approx 15 minutes or until heated through and the cheese is golden.