Debi9400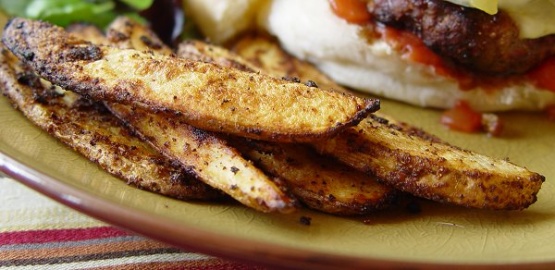 Spicy oven fries that are a snap to make.

These were great. I diced them and served them alongside bacon, date and manchego quesadillas. They're sweet (almost reminds me of eating a sweet potato!) but not overly so. I did find I had to add more salt than suggested to cut the sweetness, so I may use less sugar next time. Just a personal preference.
Preheat oven to 425 degrees.
Cut potatoes in half lengthwise, then cut into 1/4-inch-thick slabs. Cut slabs lengthwise into strips, gently pat strips dry with paper toweling and place on a greased foil-lined baking sheet (you may need 2 baking sheets).
In a small bowl, combine oil, chile powder, sugar, garlic, salt and pepper.
Pour mixture over the potatoes, and gently toss to combine using your hands.
Bake about 30 minutes until tender and golden brown, carefully turning once halfway through.