Ancho-Chile Chicken Bites in Ancho-Chili Sauce
Ken2729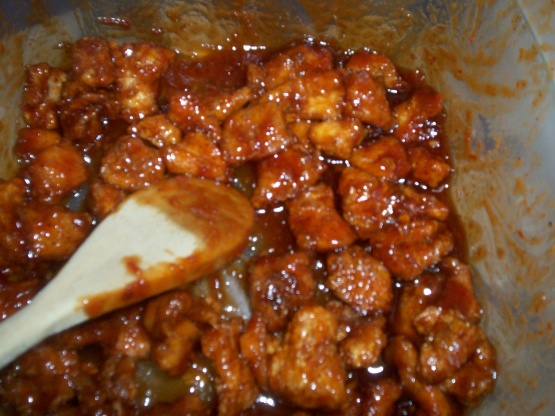 Here is a quick and easy recipe that is certain to satisfy your taste buds. The only problem you'll have is finding any leftovers!
Salt and lightly pepper both sides the chicken breast.
Liberally add the ancho chili pepper onto both sides of the breasts.
Cut the breasts into 1 inch cubes.
Whisk the egg whites.
In a Ziploc bag or mixing bowl, combine the flour, sugar, and 2 tablespoons of Acho Chili Pepper.
Take a handful of the cut chicken and dip into the egg whites. (coat well).
Place the chicken in the flour mixture and shake well. (coat well).
Place the chicken in the deep fryer at 355 degrees for 6 to 7 minutes. Drain on rack and set aside on paper towel. (NOTE: You do not have to fry all at once. Fry in batches for best results.).
For sauce:.
Melt butter in non stick pan. (medium heat).
Stir in honey and brown sugar until well blended.
Stir in Chili and Barbeque sauces.
Add remaining tablespoon of Ancho Chili pepper. Stir.
Bring to boil then let simmer for 5 minutes.
Place the chicken in a Tupperware bowl.
Pour sauce over chicken.
Put the top over Tupperware and shake chicken and sauce until chicken is evenly coated with sauce.
Serve over rice, with cajun fries, or food of your choice.