Ana's Asian Ny Strip Steak
MsSally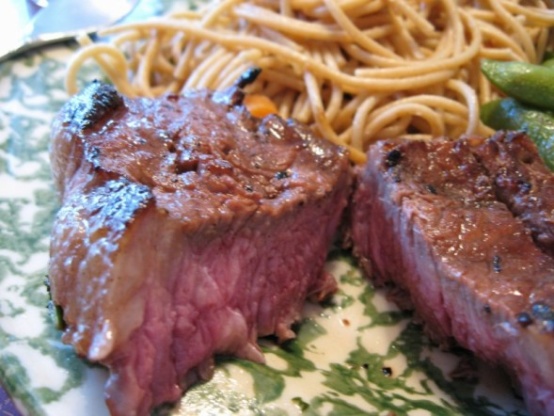 Great when you feel like having something different on the grill! Preparation time does not include marinating time in refrigerator. Cooking time includes cooking time and setting time before slicing.

Very good. I used dried parsley in place of cilantro. And used ground ginger.
Whisk soy sauce, Worcestershire, lemon juice, cilantro and ginger root to blend. Pour into a large Zip-lock bag.
Add steak, and turn to coat. Let stand 1 hour at room temperature, or refrigerate overnight.
When ready to cook, prepare barbecue.
Drain marinade into small sauce pan, and bring to boil. Set aside, and keep warm.
Grill steak about 3-5 minutes per side, depending on how rare or well done you like it. Let steak stand for 10 minutes.
Thinly slice across grain.
Drizzle sauce over top.