Amy's Pumpkin Chocolate Chip Cookies
vdm86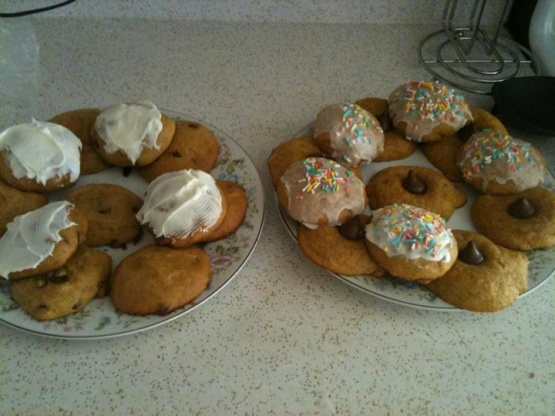 I've been making these cookies ever since I was a little girl. They are so good and moist! I usually use home-canned pumpkin, but if you are using store-canned pumpkin, just add 2 tablespoons of water to the recipe. Makes 30 large cookies. Enjoy!

These are delicious! I changed a few things and did a couple variations, and all were a success!
I used homemade pumpkin puree with great results, even though the dough seemed a little wet, I baked for 10 min exactly. Perfect!

I changed the recipe a little bit for my liking:

I used 1/2 cup white sugar and 1/4 cup brown sugar instead of 1 cup white sugar
I used 1/4 cup vegetable oil and 1/4 cup coconut oil instead of 1/2 cup oil
I added 3/4 teaspoon pumpkin pie spice

I also divided the batter in half and did one portion with 1/2 cup white chocolate chips and 1 portion with 1/2 cup dark chocolate chips.
So fun to have the variation and both varieties were delicious!!! The cookies with white chocolate chips were a little sweeter than the ones with dark chocolate chips.
Mix sugar, pumpkin, oil and egg.
Add vanilla.
Mix dry ingredients and then add to pumpkin mixture. I usually cheat and just add directly to pumpkin mixture.
Add chocolate chips and mix.
Spoon onto pans, cook at 375 for 10-12 minutes. Makes 30 cookies.