Annacia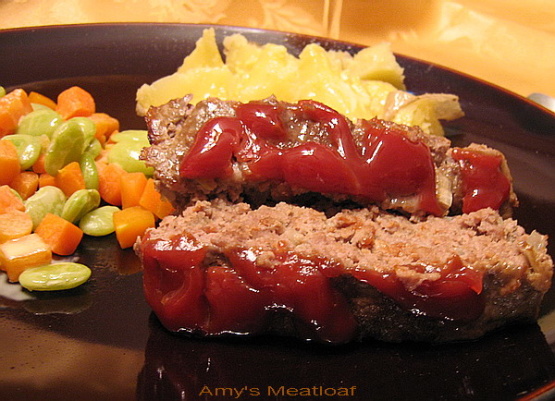 Very moist and tasty meat loaf. Pure comfort food!

Delicious meatloaf served hot or cold in sandwiches. I used my small food processor to whiz the bread and chop the onion. Instead of a loaf pan, I used a rack covered in foil paper with vents cut in the foil. Then I placed the shaped meatloaf on top of the rack and placed it in a roasting pan with a little bit of water in the bottom. I think this meatloaf would be good with strips of bacon on top during baking too. Leftovers made great sandwiches; two pieces of bread buttered on the outside, a slice of meatloaf and a slice of cheese on the inside, and grilled like a grilled cheese sandwich.
Preheat oven to 350 degrees Fahrenheit.
Mix all ingredients except ketchup.
Spread mixture into ungreased loaf pan.
Spread ketchup on top.
Bake uncovered for 1 hour to 1 hour 15 minutes.