Karamia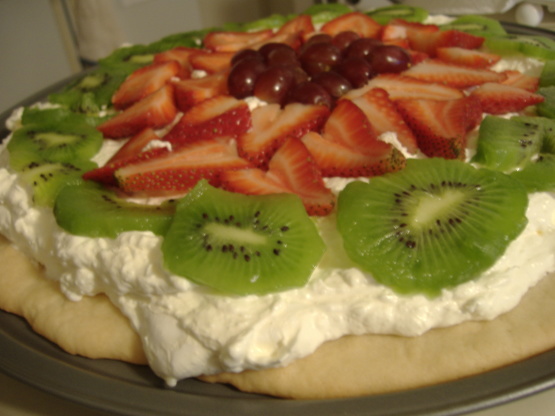 This is so good. Well worth the effort! Cook time does not include chill time.

Yum...this was a great dessert! Beautiful presentation, it would be perfect for a BBQ or picnic. The crust, creamy filling, fruit and citrus-y drizzle go perfect together! I used kiwis, strawberries and grapes as suggested. I think using blueberries and strawberries would be gorgeous for Memorial Day or 4th of July. Thanks for the great recipe!
Preheat oven to 350.
Press cookie dough into greased pizza pan. Bake 10-12 minutes. Cool.
Beat cream cheese until fluffy. Fold in Cool Whip and marshamallow creme.
Spread over cooled crust. Arrange fruit on top.
In saucepan, combine sugar, salt, cornstarch, orange juice, lemon juice and water. Cook over medium heat, stirring often.
Bring to boil and cook until thickened (1 or 2 minutes).
Allow to cool, but not set up.
Spoon over pizza and chill at least 2 hours.