Amy's Chillequilles With Eggs
IngridH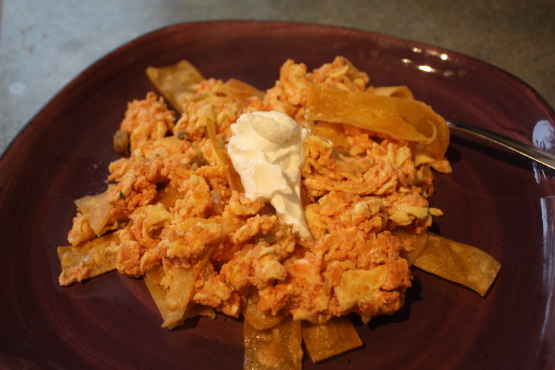 I learned to make this when i lived in Santa Cruz. It was a breakfast staple in my house for a long time. I know chillequilles is something completely different, but this is what we called it. I like to add hot sauce and black olives to this as well

This was really good! I love the combination of eggs, cheese, and salsa; and this one did not dissapoint. I cut the recipe in half, and it was still a huge portion for one- next time I'll only make a third. I didn't have rotel, so used the salsa option. This would also be great with green onions on top. Thanks for a great breakfast!
In a non stick skillet, fry tortilla strips in oil and then drain on paper towels and set aside.
beat eggs and cumin in a bowl.
pour into skillet with tomatoes and cheese and scramble.
when eggs are almost completely done -- add cooked tortilla strips and mix together.
serve with a dallop of sour cream.