AlainaF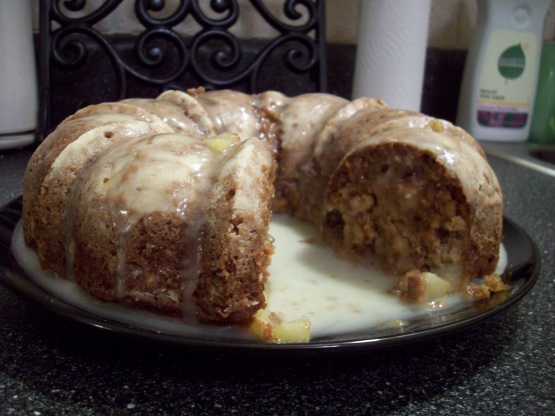 I got this cake recipe from my grand-daughter Amy. It is very moist and damn good with a cup of coffee. Note: I reduce oil to 1/4 cup and increase apple sauce to 3/4 cup. You can also use Splenda for Baking (use 3/4 splenda for baking, instead of the 1 1/2 cups sugar).

Made this last night, and it was good! Some things I would change though would be more chopped apples, less chopped walnuts. But other than that this cake came out perfect. I used egg whites mixed with oil instead of whole eggs, and I made the glaze with just powdered sugar mixed with a few tbsp. orange juice. Made alot of the glaze, but it sweetens the cake perfectly. Will make again, thanks!
Preheat oven to 350 degrees; Grease bundt pan with butter, then dust with the 1 teaspoon flour, tapping out access, and set pan aside.
Sift the 2 cups flour, sugar, cinnamon, baking powder, soda, and salt together into a large bowl.
Add oil, applesauce, and eggs and stir until combined.
Add apples and nuts, gently stir into batter.
Pour batter into prepared bundt pan and smooth out with a rubber spatula.
Bake until toothpick comes out clean, about 1 hour; set cake aside to cool for 15 to 20 minutes, then invert onto a cooling rack to cool completley.
I like to make a powdered sugar glaze using Orange Juice for the liquid to go on the top of cake, Serve warm or at room temperature, Enjoy.