Amorous Poached Egg Sandwich With Swiss Cheese Sauce
gertc96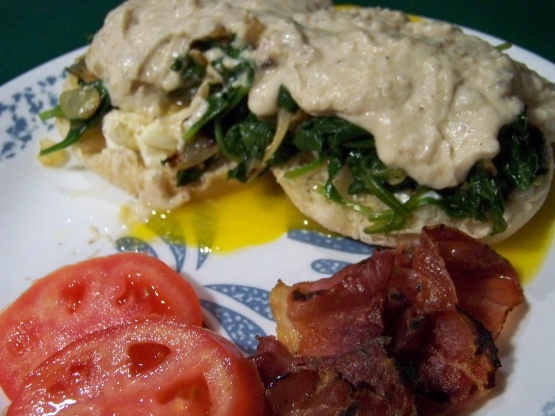 Entered for safe-keeping, this would qualify as romantic breakfast food for DH. Prosciutto and spinach make this very special. Combined onion is 1/2 cup or 1 small onion. By Tracey Seaman, found in Every Day with Rachael Ray. Edited 5/25/14 to add Steps 9-13; thank you Pat for alerting me.

Yum! I thought this would be a heavier meal than it turned out to be. Satisfying, but not too filling. I swapped out regular sausage and veggie sausage for the meat and it worked well. Served with melon balls for a really tasty breakfast. Thanks for posting the recipe.
In a small saucepan, melt 1 tablespoon butter over medium heat.
Add 1 tablespoon onion and cook, stirring, until softened, about 3 minutes.
Whisk in the flour and stir for 1 minute.
Whisk in the milk and simmer for 2 minutes, then whisk in the cheese and season to taste with salt and pepper. Cover the cheese sauce and set aside.
Melt the remaining 1 tablespoon butter in a medium skillet over medium heat.
Add the remaining onion and cook, stirring, until golden, about 7 minutes.
Add the spinach and cook until soft, 3 to 4 minutes.
Season to taste with salt and pepper.
Fill a small nonreactive skillet with 1 inch of water. Add the vinegar and a pinch of salt and bring to a boil.
Meanwhile, toast the English muffin.
Crack the eggs into saucers, then slide them into the boiling water and simmer until desired doneness, about 3 minutes for lightly poached. Transfer to a plate using a slotted spoon.
Re-warm the cheese sauce over low heat.
Top each English muffin half with 1 prosciutto slice, 1 tomato slice, half the spinach, some cheese sauce, another prosciutto slice, a poached egg and more cheese sauce.