Bonnie G 2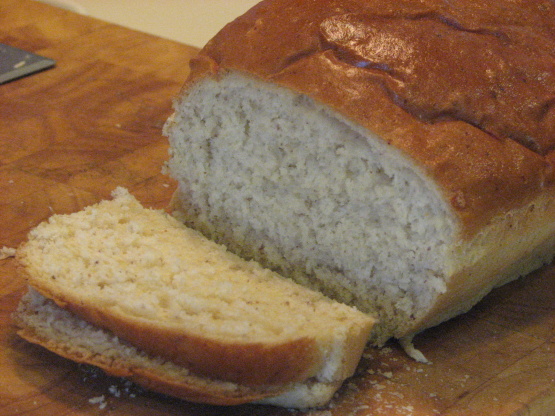 This is my favorite home baked bread recipe. I got it from an Amish cookbook years ago and no other bread recipe I have tried beats it. It is a standard in our house with beef stew.

Excellent bread with easy to follow instructions. I used bread flour and kneaded (with Kitchenaid) for 15 minutes. Baked one loaf for dinner and rolled the second one out, sprinkled it with a bit of brown sugar, granulated sugar and cinnamon, rolled it up and let it rise overnight in refrigerator. This morning I set it in a barely warm oven for about an hour to finish rising and then baked cinnamon bread for breakfast. Thanks for the recipe!
Dissolve yeast in 1/2 cup warm water.
In large bowl, combine sugar, salt, 2 cups water and shortening.
Stir in yeast mixture.
Gradually add flour to form a soft dough.
Turn onto floured surface and knead until smooth.
Place in a greased bowl and cover and let rise for about 2 hours.
Punch down and divide into 2 portions and form loaves.
Place in greased 9 x 5 loaf pans and prick tops with fork.
Let rise until higher than pans (about 2 hours).
Bake at 375 degrees for 25 to 30 minutes.
Cool for ten minutes.
Rub butter all over tops of loaves.
Place pans on sides until loosened.
Remove bread from pans and cool completely on racks.