KellyMae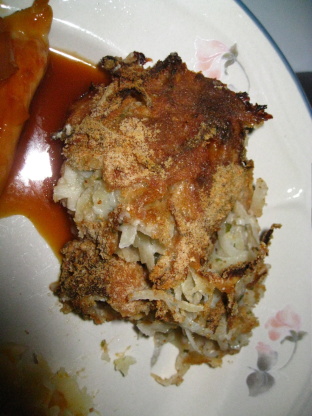 A friend gave me this recipe. I look forward to trying it!

Top Review by Bergy
Nice taste blend with the turnip mixed with potatoes. I did two things differently - I used whipped cottage cheese instead of yogurt and put HaHn Phi Fried red onions (these are like French's fried onions) on top half way throught the baking instead of the bread crumbs. Excellent dish that disappeared very quickly Thanks Barbara
Thoroughly mix all the ingredients, except the bread crumbs, in a large bowl.
Pour the mixture into a lightly greased shallow casserole (9 inches).
Then scatter the bread crumbs over the top.
Bake for 40 minutes at 375 degrees F.
Serve immediately.