Amish Texas Chocolate Roll Cake
Olive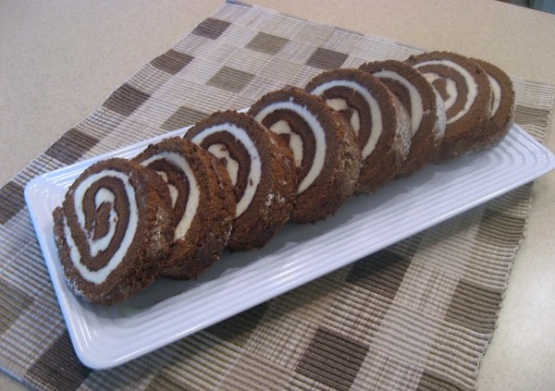 this came from a wonderful cook in Holmes County Ohio..Edna Miller...you can fill with a variety of fillings..from fruit to whipped cream...I have even filled it with German Chocolate Cake Frosting..much easier to serve..if you want a yellow cake roll..omit cocoa and add vanilla

Top Review by Olive
This is a good chocolate roll. It is very similar to the recipe I use. I only bake mine for 15 minutes. When it is cooled completely, I fill it with a buttercream icing....re-roll it and dust with powdered sugar; then chill it for a couple of hours for easier slicing. An electric knife works great for slicing.
beat the egg yolks, sugar and 3 tbls hot water.
Beat the egg whites till stiff -- add all ingredients.
put in jelly roll pan lined with waxed paper and bake for 20-25 minutes at 350*.
cool in pan 5 minutes -- then invert onto a towel dusted with powdered sugar -- roll and when cool.unroll and fill with filling of your choice -- .