Amish Sticky Buns, Sweet Rolls--Wow Wow Wow!
cemrie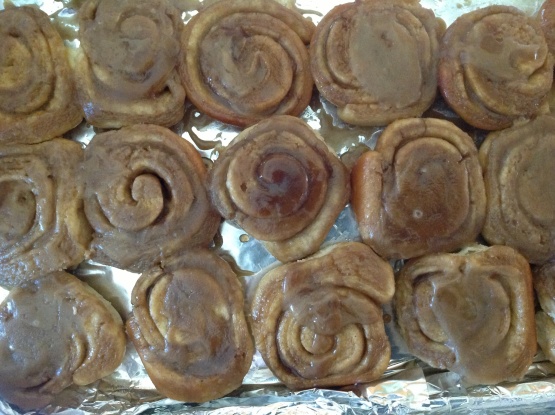 These are a 'tried and true' treat here in Amish country. These will be hard to beat in flavor, and will always get rave reviews from those you choose to bless with this dish! ENJOY!

I grew up in Lancaster County PA, and sticky buns were always available. Now that I live in Bali, I have to make my own. So glad I did! This recipe is delicious. I had to substitute the local gulah merah (palm sugar) for the brown sugar, and it is absolutely decadent. Easy, too. Thanks for posting.
Dissolve yeast and 1 tbsp sugar in warm water.
Scald milk, then add butter, sugar and salt.
Cool to lukewarm.
Add two cups flour.
Add yeast and eggs.
Stir in the remainder of the flour and knead lightly.
Let rise until double.
While dough is rising, boil all syrup ingredients for two minutes.
Divide syrup into six 8-inch square pans (or I sometimes use 3- 9x13 pans).
When dough is doubled, punch down and divide into two parts.
Roll each part (one at a time) into a 12x18-inch rectangle on a well floured board or table.
Sprinkle with brown sugar and cinnamon.
Roll up tightly, beginning at the wide side.
Cut into 1 inch slices, and lay slices on top of the syrup in the pans.
Repeat with all dough.
Bake at 375°F for 15 minutes.