Amish Oatmeal Whoopie Pie Cookies
ChefLee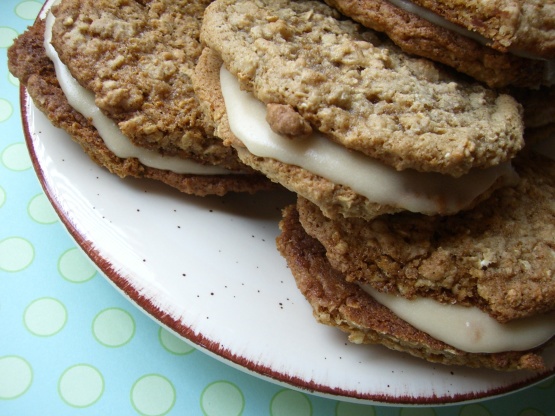 These are even better than a Little Debbie oatmeal cookie

Top Review by Nikoma
I can't believe how well these turned out! They're very close to the ones I've picked up at road stands in "Dutch Country".I WILL cut down on the brown sugar in the recipe next time though, just a little to sweet paired with the filling. I made my cookies bigger then stated and they were done at 10-12 minutes. And I added raisins to the dough as well. And PLEASE use this filling! The egg white is NOT going to hurt you, and though the filling initially seems a little thin and runny is stiffens after sitting for a little while! Thanks Grandma2669!
For oatmeal cookie mixture -- cream butter, sugar and eggs.
Sift together flour, salt and baking powder and add to creamed mixture.
Add cinnamon and oatmeal.
Mix well. Add soda to hot water and add to batter -- mix well.
Drop by tblspoon onto greased cookie sheet;
bake 19-15 min in 325* oven.
For filling, combine egg white, vanilla, milk and 1 cup of powdered sugar.
Cream well.beat in mixing bowl about 10 minutes.Add rest of ingredients and beat an additional 2-3 minutes.
Put filling between 2 cookies.
Wrap each whoopie pie cookie in plastic wrap.