teresas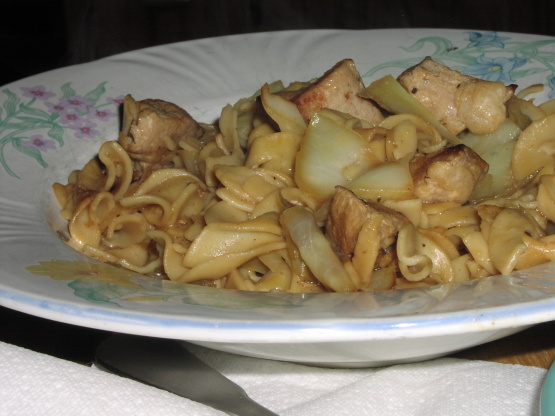 Entered for safe-keeping for ZWT. From www.amishrecipes.com.

I was expecting great flavor with this dish...but it was on the bland side...I added lots of salt to perk it up and still it was missing flavor so I added in a couple of beef bouillon cubes...that did help it...I cut the recipe in half and it made enough for 6 people...I think cooking the ingredients in bacon fat would give it a burst of flavor...I really love cabbage and noodles cooked together but this time hubby wasn't impressed...
Sprinkle pork chops with garlic powder, salt and pepper and place in a large greased sauce pan or deep skillet with chopped onion and fry until very brown and well cooked. It is okay if they stick a little, as the drippings are essential in this dish. When done, remove chops and set aside.
Add a little water to the saucepan or skillet and mix up the drippings a bit. Place cabbage into the pot, and allow to cook down completely.
In a separate large saucepan, boil the egg noodles in water until cooked. Drain noodles and mix in butter.
Cut up the pork chops to bite size pieces and set aside. When the cabbage has cooked down, add pork and cooked noodles and mix completely.