Amish Dry Lime Gelatin Salad / Dessert (Jello)
Olive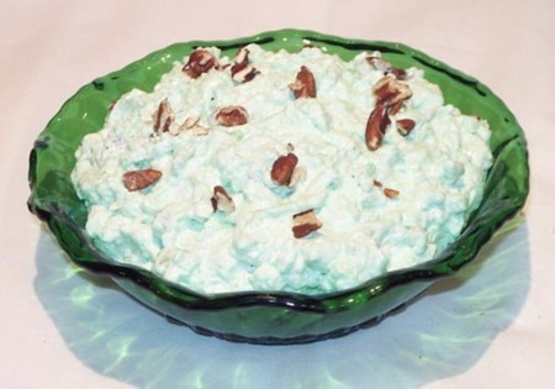 Found on www.AmishDining.com. A recipe seldom gets any easier than this one. Kids could make this with just a bit of supervision. My mother used to make something like this that had these same ingredients. This is much like her's, and since she was not a dessert maker, I am sure she would have opted for a simple recipe. Other flavors of gelatin work too, like Cherry and Strawberry which are perfect for Valentine's Day. NOTE: Times do not include the 2-3 hours for chilling time. Servings are approximate.

Top Review by Olive
My mother made this recipe all the time when I was a kid. She used pecan pieces instead of walnuts. She would let the jello slightly thicken in the refrigerator before adding in the other ingredients, and then chill it thoroughly. A delicious salad!
In a 4-6 quart bowl, pour dry gelatin over cottage cheese, pineapple, whipped topping and nuts; stir together well.
***Chill 2 to 3 hours***.