jrusk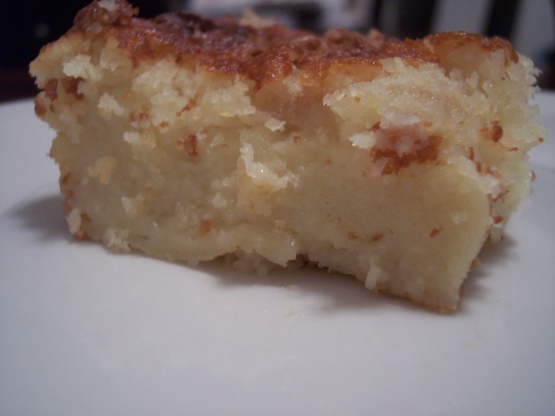 We shared this pie at an Amish restaurant in the area..and begged for the recipe and here it is!!
Made this last night to bring to work today for my boss's birthday. I needed something quick & easy, as it was a long day yesterday! This was super easy to make - I love that you can just throw everything in a blender & pour into the pie pan - no crust needed! I tried some last night & I love the coconut-y flavor. It did taste a bit egg-y, but the whole concept was just wonderful. I put it in the fridge overnight & have it out now at work. I kind of like it cold, better! I will add this to my quick & easy dessert list. Thank you!
Place all ingredients into a blender, put blender on medium speed and count to ten --.
pour into a 9" deep dish pie pan.
during the baking process, the flour drops to form the crust.and the remaining ingredients will form the filling --.
Bake at 350* for 45 minutes.