Amish Cinnamon Swirl Raisin Bread
Bayhill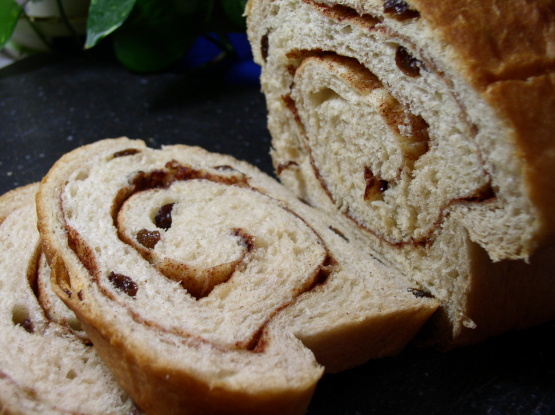 This is great toasted, or we like it also with chicken salad sandwiches..
Delicious! I am only giving this 4 stars instead of 5 stars because some of the ingredients were missing/wrong. There was no butter listed in the dough ingredients, but butter is listed in the instructions for making the dough. Also, the amount of butter listed for the filling was, in my opinion, way too much. I zmailed the chef who posted this recipe, but didn't get a response, so I had to improvise. I used 1/2 cup melted butter in the dough and added it to the sugar, salt, and mashed potatoes. I followed the rest of the written instructions but only let the dough rise 1 hour because it had doubled in size. After the dough had risen, I divided it in half and rolled out each piece to a 16"x8" rectangle. I spread 1 TBSP melted butter on each rectangle and sprinkled each with half of the cinnamon/sugar mixture. I rolled up each rectangle, starting from the 8" side, pinched the seams and put into (2) greased 9"x5" loaf pans. I let them raise for only 30 mins. (1 hour would have been too much), and baked in a 350 degree oven for 40 mins. The only other change I made was to add 1 tsp. cinnamon to the dough because we prefer the extra cinnamon. My family loved the delicious flavor and soft texture of this bread and claimed it a winner. Thanks for sharing!
Scald the milk in saucepan.
Remove from flame and add sugar, salt, butter and mashed potatoes. Cool.
Dissolve yeast in the warm water in a seperate bowl; then add this to milk mixture. Add raisins and flour.
Let it rise in a nice warm place for approximately 1 1/2 hours.
Divide dough into 2 loaves.
Roll out on a lightly floured surface and spread half of the filling on each roll. Roll up as for jelly roll and pinch edges together .
Place in 2 greased 9x5 loaf pan and set in a warm place to rise for about an hour.
Bake in loaf pans at 350* for about 45-55 minutes sounds hollow when tapped.
Remove from oven and brush top with small amount of melted butter or margarine.
Let cool in pans 10-15 minutes and then invert onto cooling rack to cool completely.