Annacia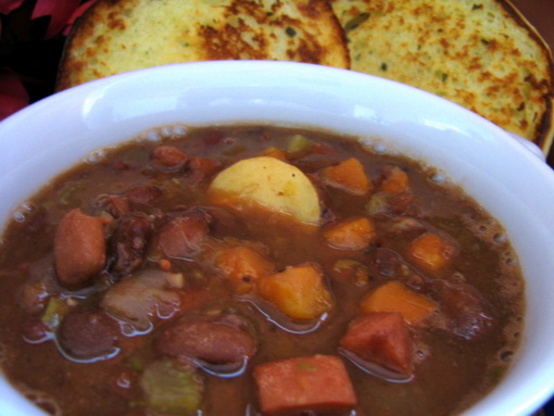 This is a wonderful warm soup to warm the heart in these last cold days of winter. Being in Wisconsin, warm soup is always a welcome thing. This is a very simple amish soup, so it has very simple ingredients. It's perfect for a beginner cook or someone like me who just wants something easy.

Top Review by kisci
ohhhhh !! my goodness !! i have to tell you, i cooked this soup yesterday, and my husband was eating it, and said this is the best thing that you have ever cooked.. including your roast beef dinner ! ha! thank you thank you thank you !! no more canned bean soup for us !
Boil the beans in the water for 2 minutes before removing them from the heat to let stand for 1 hour.
Add the ham bone, garlic and bay leaf to the beans, and cover and simmer them for 2 hours or until the ingredients are almost tender.
Add the vegetables and salt and pepper to taste, and simmer them for 1 hour longer. Remove the ham bone, cut off the meat and dice it to add to the beans. Reheat the soup almost to boiling, then remove the bay leaf.