karen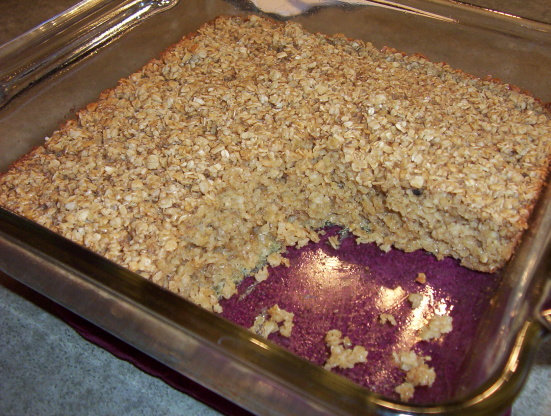 This recipe came from an old Amish cookbook of mine. It tastes like an oatmeal cookie. It stores well in the refrigerator and can be reheated in the microwave and served with milk. This has to sit overnight, so plan accordingly. It is well worth the wait, however!

This is delicious! I cut the sugar to 1/2 cup (dark brown) and cut the butter to 1/4 cup, and it's wonderful. I used cinnamon and 1/4 tsp nutmeg, and threw in raisins and walnuts. I also used almond milk instead of regular milk, and didn't refrigerate before baking. I'll be making this again to keep in the fridge for a quick, nutritious breakfast.
Melt butter.
Grease 1 1/2 quart baking dish and drop in eggs and beat well.
Add brown sugar, baking powder, vanilla, nutmeg or cinnamon, and salt. Mix well, no lumps.
Whisk in butter and both measures of milk, then add oats.
Stir well, and refrigerate overnight.
Bake, uncovered, at 350 for 35-45 min, or until set in the middle.
Serve hot with warm milk poured over.