"amigos" Crisp Chicken Burritos
lovekeil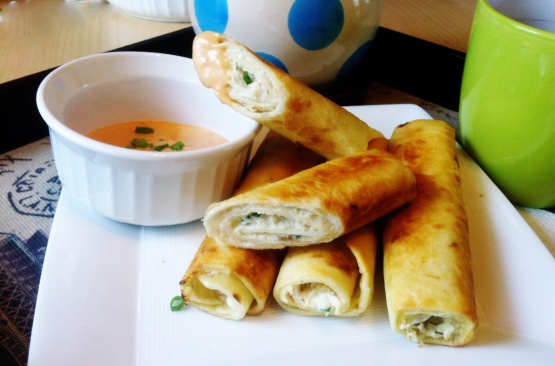 This rolled up chicken burrito is fried. It has a delicious moist chicken stuffing with a nicely crisp flour tortilla wrapped around it. It is so easy to make with only 4 ingredients.
Let cream cheese come to room temperature. Drain the canned chicken. Mix cream cheese, green chiles, green onion and chicken until well blended.
Cut two sides of the tortillas so you have two straight sides on each side.
Spread chicken mixture thinly on 3/4 of the tortilla. Roll tortilla up starting with the end you spread the chicken mixture on. Seal the plain end with water.
Heat oil to about 375-400 degrees. Drop burritos into hot oil and fry for about 2 minutes. Keep turning so they fry evenly. When they start to turn golden, they are done. Drain on a paper plate covered with a paper towel.
These are so easy and goes great with Salsa, guacamole, or ranch dressing.