Americas Best Pancakes or Waffles from That Chicken Ranch
Boomette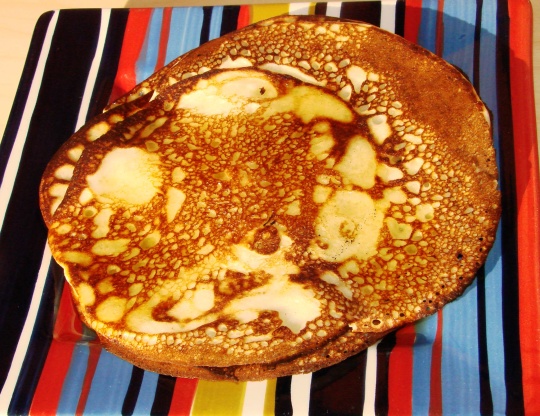 These are so great to eat! Very fluffy and inexpensive. I make the whole batch and freeze them 3-4 to a small sandwich baggie. Then in the morning I pop them in the micro (I know I shouldn't do it in the bag but I am lazy...) for about 1 minute. Then I either top with applesauce or pour homemade fruit syrup on top for a quick nutritious breakfast!
Whisk milk and lemon juice in a medium bowl and set aside to let thicken.
Whisk the egg and cooled melted butter into the milk mixture.
In a separate bowl, whisk dry ingredients together - flour, sugar, baking powder, baking soda, salt.
Create a little "well" in the center of dry ingredient bowl and pour the milky mixture in the center.
Whisk gently until just combined, there should still be lumps. Stirring too much makes the cakes tough, you want them light and airy!
Heat a pan, griddle or waffle maker to medium heat and coat with butter or vegetable oil.
For Pancakes: Pour pancake mixture by 1/4 cups and heat until large bubbles come to the top (about 1-2 minutes).
Flip the pancake and wait another 1-2 minutes.
For Waffles: Experiment with your waffle maker settings- you want a soft brown exterior with a lightly done interior- don't overcook!