Boomette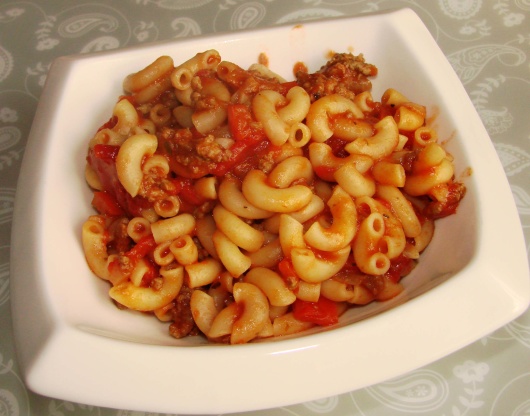 Based on a recipe from Guy Fieri�s book, Diners, Drive-ins and Dives: an All-American Road Trip�With Recipes! This celebrates Red Arrow Diner in Manchester, New Hampshire, a landmark diner established in 1922.

Top Review by ellie_
Very good comfort food! When my kids were small I used to make a version of this a lot -- enjoyed this version with small changes by using 1 (28 ounce) can tomatoes (instead of canned tomatoes, tomato sauce and tomato paste) and 1 small can of V-8. I also skipped the green pepper and added celery and some frozen peas. This makes lots!!! Thanks for sharing!
In large pot over medium heat melt butter. Add onion and bell pepper and cook, stirring occasionally, until soft, about 5 minutes. Stir in garlic for about 1 minute. Stir in ground beef and cook, stirring and breaking up meat chunks with a spoon. Cook until meat is done, about 7 minutes until no longer pink. Toss herbs and pepper over the meat mixture, add salt to taste, and stir until well mixed.
Add canned tomatoes with their juices, tomato sauce, tomato paste, and tomato juice. Add sugar to taste. Simmer gently while you prepare the pasta.
Bring a large pot of salted water to the boil over high heat. Add macaroni and cook until al dente, stirring occasionally. Drain the macaroni and add to the chop suey.
Serve hot.