American Celebration Tart
2Bleu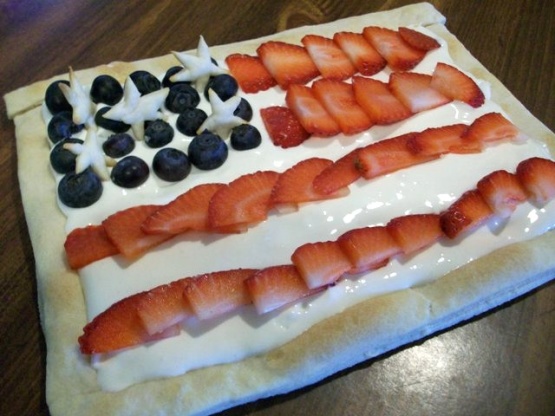 This is a delicious tart that's great for celebrating the USA such as the 4th of July, Memorial day, Veterans day, Presidents day, Election day, etc. You could opt to use puff pastry sheets for a speedier version.
DOUGH: Place the flour, salt, baking powder, and sugar in a food processor and process for a few seconds to combine. Add cream cheese cubes to the flour. Process for about 20 seconds or until the mixture is course. Add the frozen butter cubes and pulse to get course crumbs.
Drizzle in the water/vinegar mixture and pulse until most of the butter is reduced to size of small peas. The mixture will be in particles and will not hold together.
Divide the mixture into two plastic grocery bags. Holding both ends of the bag opening with your fingers, knead the mixture by alternately pressing it, from the outside of the bag, with the knuckles and heels of your hands until the mixture holds together. Wrap the dough with plastic wrap, flatten it into two discs and refrigerate for 1 hour (it can also sit overnight).
ASSEMBLY: Preheat oven to 400°F To each disk of dough, on top of a sheet of parchment paper, roll into 8"x10" rectangle. Carefully slide one of the rectangles onto a cookie sheet. To the second one, cut four strips, 1" wide; reserve remaining dough.
Brush edges of pastry with water. Lay strips of pastry over edges making an outer rim (like a picture frame). Trim off any excess dough. Prick entire bottom of pastry with tines of a fork. Bake 15 minutes or until golden brown. Remove from oven and let cool. (center may puff of slightly, but will flatten out when it cools.).
Cut very small star shapes from remaining dough with cookie cutter; sprinkle with sugar. Bake on a cookie sheet or baking stone 12-14 minutes or until golden brown. Remove from oven and allow to cool to room temperature.
Meanwhile, wisk lemon juice and condensed milk in small Bowl. Gently fold in the Cool whip.
Spread the lemon filling into the cooled crust. In a single layer, place blueberries in a rectangle in the top left corner of the crust (where the stars on the flag go). Layer strawberry slices in strips, overlapping like fallen dominos (to resemble the stripes on the flag). Take star cookies and place upright in a slanted position between the blueberries.
Optional: Using a pastry bag with a star tip, fill with additional cool whip and decoratively fill between the strawberry slices.