twissis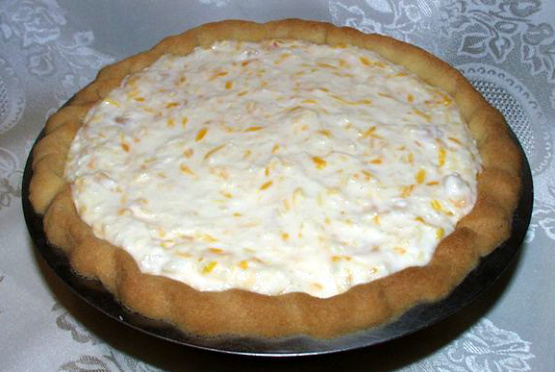 My daughter Adiya (Didi to her friends) brought this recipe home from a cooking demonstration at her school. Mandarin orange segments are hard to get where we live, but this pie is worth every imported can! Prep time includes fridge time.

This was pretty good. I am not a huge fan of coconut. It did not set up very well, and sorta got messy on us when we went to serve it. Everyone still liked it. I think I'd take Twissis idea and run it through a sieve first. Thanks! Reviewed and Made for Fall 2007 PAC.
Chop up orange segments.
Lightly press the orange pieces and the pineapple between layers of paper towels to remove any excess moisture (you do not want a sopping wet pie).
In a medium bowl, combine the milk and the pudding mix. Mix well.
Whip the cream until stiff and fold it into the pudding mix.
Fold in the coconut as well.
Add the oranges and pineapple and stir well to mix it all through.
Pour this mixture into the crumb crust.
Cover with some plastic wrap and let the pie hang our in the fridge until it's firm enough to cut, about 6 hours or overnight.
Keep it covered and store it in the fridge.
Garnish with additional whipped topping and coconut.