Amber's Japan-Style Tofu Meal
Prep 20 mins
Cook 20 mins

This is my own version of Japanese-Style Tofu. I changed it quite a bit and enjoyed so much that I must post it, at least for myself to remember! Suppers don't get much easier (or healthier) than this :)
1⁄2 lb firm tofu, frozen and thawed (you don't have to do this, but it will help the tofu soak up more flavor)

MARINADE

1 tablespoon tamari
2 tablespoons rice vinegar
1 teaspoon fresh ginger, grated
2 tablespoons water
2 tablespoons tomato juice (I use low-sodium V8)
1⁄2 tablespoon vegetable oil
3 cups quinoa (about 2/3 cup uncooked will yield this amount, use 1-1/3 cups of water)
4 cups green beans (I had a combination, or any other steamed vegetables you like, or salad...) or 4 cups yellow wax beans (I had a combination, or any other steamed vegetables you like, or salad...)

SAUCE

1 tablespoon tamari
1 tablespoon rice vinegar
1 teaspoon fresh ginger, grated
2 tablespoons water
2 tablespoons tomato juice (I use low-sodium V8)
1 teaspoon miso, a bit generous (I use dark-colored rice, or kome, miso)
1 teaspoon cornstarch

TO SERVE (optional)

1 scallion, thinly sliced
2 tablespoons alfalfa sprouts (or other sprouts)
Directions
Slice the tofu into 4 horizontal slabs. Gently press them between a tea towel to remove some of their moisture. Then slice into strips.
Stir together the marinade ingredients in a shallow dish. Add the tofu strips, and flip gently (a wooden utensil works well) to coat. Let marinate for 20 minutes- 1 hour.
Meanwhile, cook your quinoa, and let it rest, partially covered, off the heat when it's done.
When the quinoa is cooked, you can also start steaming the beans and preparing the tofu:.
Whisk everything for the sauce, EXCEPT the miso, in a small saucepan.
Heat the oil in a frying pan over medium heat. Drain any extra marinade from the tofu strips, transfer them to the pan and fry till golden-brown. Set aside.
Add the reserved marinade to the pan with the sauce ingredients and place it over medium heat. Quickly bring to a boil, whisking well to remove lumps of cornstarch. After it cooks for two minutes, remove from heat and stir in the miso.
To serve, arrange 4 tofu strips on a bed of quinoa on each plate. Spoon sauce over top, and sprinkle with scallion and sprouts. Divvy up the beans on the side, and serve. Hope you enjoy!
Reviews
Most Helpful
This is a realy great vegan recipe. I allowed it to marinade for 30 minutes, and I think that was enough. I never tried quinoa before, but I find that I really enjoy it.
Another winner!!! If we had to pick a ZWT Best Chef you would have my vote :) This was a super easy dish and tasted FAB! I used the frozen tofu method because I too find it helps soaked up the marinade. I only had time to marinate for 20 minutes but this seemed sufficient. I only had white miso on hand so I used that. I used green beans but next time I will add other veggies too... Broccoli, bok choy, possibly capsicum YUM! I had a jar of grated ginger on hand and no fresh so I had to sub this and even though I'm not a big fan of jarred ginger it was still great! Next time I will make sure I use fresh and I imagine it will be even better. Thanks again. Made for ZWT 6 - Zingo (Voracious Vagabonds)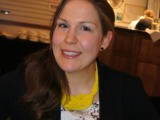 My BF and I both enjoyed this immensely. The only thing I would suggest is to add mirin for a little bit of sweetness (or honey, etc.). My store only had red quinoa, so we used that. The only difference was that we omitted the sprouts altogether (seemed unnecessary) and used mild white miso (more than 1 teaspoon). We thought the directions seemed unnecessarily complicated too, but whatever, we managed to follow them more or less correctly. Very good for you and yummy :) Made for ZWT VI.