Amazingly Soft Peanut Butter Chocolate Chip Cookies
all4him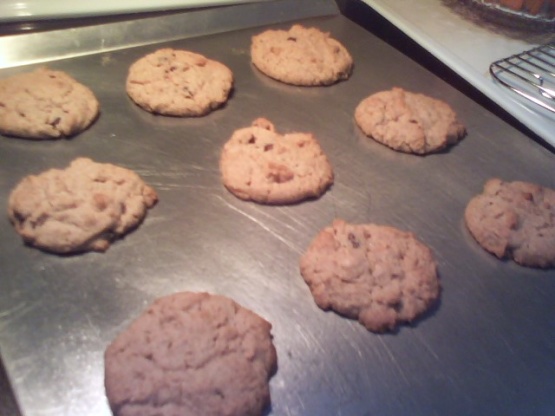 These are soooooo good! My boyfriend and I can't stop eating them. (Make sure not to over cook or they won't be soft.)

I tried this recipe with all purpose flour, and used 1/2 cup white and 1/2 cup brown sugar. These cookies were delicious. I also added bits of crushed pretzels and sprinkled vanilla fleur de sel on top. The were incredible. I am going to try this recipe using whole wheat and all purpose flour next time.
Preheat your oven to 325 degrees Fahrenheit.
Cream butter, peanut butter, and sugars together until smooth.
Add eggs and vanilla, beat well.
Stir in flour and baking soda until well combined.
Mix in chips and nuts by hand.
Using a cookie scooper or a spoon, scoop up 1 1/4 inch balls of dough and place 2'' apart on a greased cookie sheet. (For smaller cookies make smaller balls of course. Do not push them down.).
Bake for 15 minutes or until cookies are firm around the edges but do not wait until the tops are brown.
Tips:.
Wait 3-4 minutes before transferring to wire rack to cool.
You could use any kind of nuts you want and even switch up the chips.
If you put the cookies into a zip lock bag place a piece of sandwich bread in with them to keep them soft.