Amazingly Simple Chicken Noodle Soup
Karen..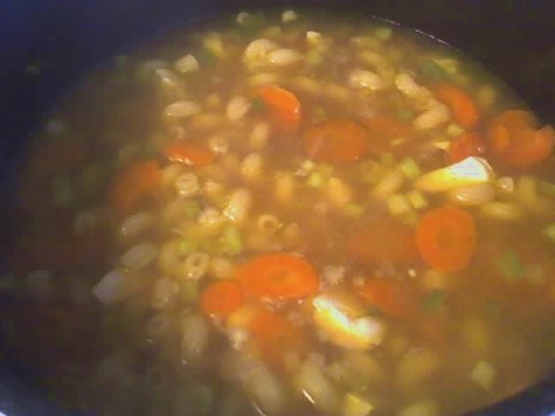 So simple, so tasty, so soothing!!! A classic chicken noodle recipe. All it takes is some chicken broth or chicken soup base, chicken and some veggies. A bay leaf gives it the extra yummy factor. Why would you ever buy canned soup with such an easy tasty recipe like this! I read this recipe in a chicken cook book but changed a few things to suit my prefrences.

Top Review by stamp
I made this soup for my MIL and Granny. They both were very complimentary and said they had never had homemade chicken noodle soup turn out so tasty. I pre-cooked cut-up chicken breasts in the microwave before putting everything in the crockpot, except the noodles, which were added about an hour before I served. I also used a tbsp. of extra virgin olive oil instead of butter.
Cook carrots in melted butter 4 min.
Stir in onion, broth and bay leaf.
Season with salt and pepper to taste.
Bring to a boil, then simmer 5 min until carrots are almost tender.
Return to a boil.
Add noodles, chicken, peas and simmer until noodles are tender.
Enjoy.