Amazing White Trash Puff Balls
SharonChen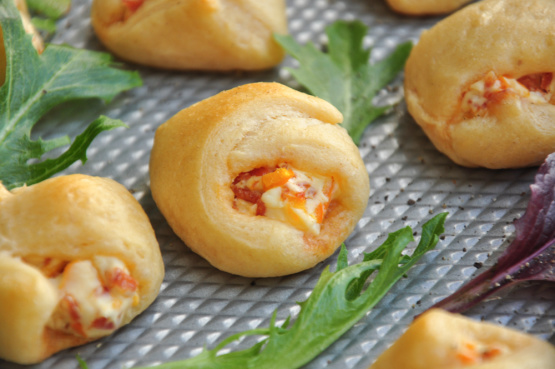 These are wonderful! My cousin brought them as an appetizer for Thanksgiving dinner one year, and I got the recipe. I make them for work parties, and even quick snacks at home. You can always make more or less by using more or less cream cheese and crescent rolls! Trust me, these are excellent!

Addictively yummy little buggers!! I needed to bake these at 375 to get them crispy enough, but that's probably my oven's fault. One of the great things about this recipe is that it inspires all kinds of creativity--bacon/ham/sausage instead of pepperoni, adding green onions/olives/hot peppers/fresh herbs, topping with seeds, etc., etc. I can't wait to make them again--at the last party a full platter was emptied in 10 minutes flat! Thanks Ashley!!
226.79

g packagehormel sliced pepperoni (or any brand)

226.79

g package cream cheese

2

(572.66 g) package Pillsbury Refrigerated Crescent Dinner Rolls
Take out the crescent rolls, and seperate into the individual triangles.
Flatten each triangle and slice it so that it becomes three small triangles.
Dice or chop your pepperoni into tiny, tiny pieces.
Mix the pepperoni into the cream cheese, stir very well so all of the pepperoni pieces are mixed into the cream cheese.
Take a little spoonful of your cream cheese/pepperoni mixture and put it in the middle of one of your crescent rolls triangles.
Pinch up all of the sides around the filling.
Repeat and place them all on a cookie sheet.
Bake for the amount of time stated on the crescent rolls (usually 11 minutes at 350°F).
Let cool for a few minutes before serving!