anna2402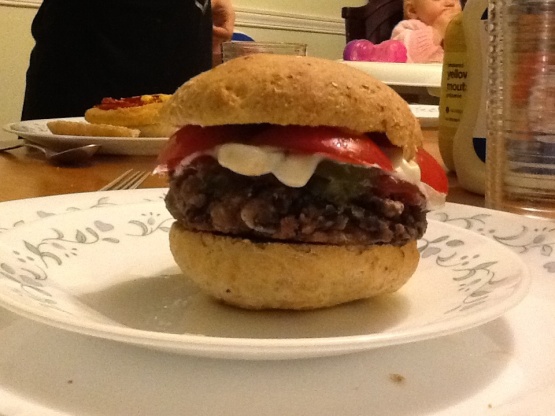 A tasty black bean burger with onion, BBQ sauce and cheddar cheese. These great-tasting burgers don't demand a mind-numbing list of unusual ingredients. You can easily double the recipe and freeze some for another night. From Today's Parent Magazine.

I can't believe these haven't been reviewed yet! This is it, folks...the holy grail of veggie burger recipes that have tons of flavor AND stay together in patty form. I would give this twenty stars if I could! I have made them twice now, once as written and once replacing the bbq sauce with Frank's Red Hot. I forgot to add the oil the second time and they still worked out just fine.Both were great and *very* well received by dinner guests. I can't see myself buying another overpriced box of black bean burgers! If you are reading this, stop reading and just go make some burgers :). Thanks, FrVanilla!!
Drain beans, then rinse with cold water. Drain well, then pat dry with paper towels. Place in a food processor fitted with a metal blade. Add onion, garlic, egg, 2 tbsp (30 mL) of the barbecue sauce, Worcestershire, oil, salt and pepper. Pulse just until beans are about the size of peas. Don't purée. Turn into a large bowl.
2. Stir in flour with a spatula until evenly mixed. Sprinkle with bread crumbs. (Only store-bought bread crumbs or crackers ground in a processor until very fine will work.) Stir inches Mixture will be very thick. Scatter with cheese and work in with your hands. Divide mixture into 6 portions. Using well-floured hands, shape into burgers, about 1/2 in (1 cm) thick. If making ahead, refrigerate in a sealed container up to 1 day or freeze.
3. Cook burgers in a well-oiled frying pan over medium heat for 5 minutes, or until browned on the bottom. Turn over and spoon the remaining barbecue sauce on top. Cover and continue cooking until heated through, about 5 minutes more.