Amazing Tomato and Basil Penne With Italian Sausage
Lab Chef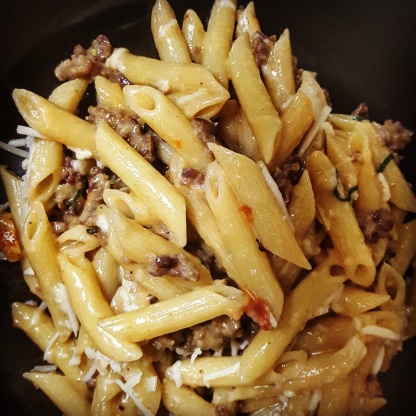 This is an amazing rustic Italian recipe, that is super simple to make.
Cook the pasta, per package instructions. It should be done about the same time the sauce is finished.
In a large 12 inch skillet on medium high add the oil and sausage. Cook until browned and crumbled.
Add the onion and cook until translucent 3-4 minutes.
Add the Garlic and cook for about 1 minute.
Add the chopped tomato and cook for 2-3 minutes.
Add the chicken stock and cook until reduced by at least half.
Add the heavy cream and cook until the sauce is thick and creamy.
Add the basil and cook for no more than 1 minute.
If the sauce has become too thick add about 1/4 cup of the pasta water. Add the cooked pasta and cook for about 2 minutes mixing frequently until all the sauce has been absorbed by the pasta. Season with salt and pepper to taste.
Serve topped with some grated Parmesan cheese (optional). enjoy.