Amazing Solan Family Chocolate Cake (Aka 3-Hole Cake)
Rosa O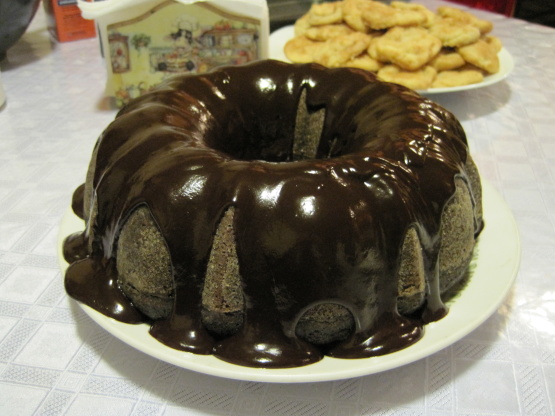 This is a Swedish cake recipe; I got it from a dear friend who made it at several parties during college and always got rave reviews. Now I'm the one who gets all the credit when I make it : ) My family loves it; I play the "guess-the-secret-ingredient" game (the vinegar) and no one ever has... though they've guessed everything from peanut butter to cheese! I love it because it's relatively "healthy" (no dairy, no eggs, low-fat), while it's still amazingly moist and chocolaty and dense. (You can make it even lower fat if you use only 1/4 C oil and sub. 1/2 C applesauce).

Did this recipe for work for something Swedish "Diversity Day" It was a winner! I used the original peppermint in the glaze and added a little vanilla to it too! Turned out awesome! Oh I also went the low fat version with applesauce so moist and delicious! I will definitely be doing this one again.
709.77

ml flour

473.18

ml sugar

9.85

ml baking soda

4.92

ml salt

88.74

ml baking cocoa

177.44

ml oil

473.18

ml cold water

29.58

ml white vinegar

14.79

ml vanilla

Mocha Glaze

118.29

ml powdered sugar (optional)

29.58

ml baking cocoa (optional)

2.46

ml decaf instant coffee (optional)

14.79-22.18

ml milk, of choice (works with regular, soy or rice or whatever) (optional)

1.23

ml almond extract (I usually use almond, but have tried & like coconut, orig. glaze recipe calls for peppermint) (optional)
Instructions for Cake:.
Mix dry ingredients together in large bowl.
Mix wet ingredients together in separate bowl.
Add wet to dry a little at a time, stirring as you add.
Pour batter into WELL-GREASED bundt cake pan (well-greased is key--this is a sticky cake; I use Pam with great results), bake at 350 for 35-40 minute.
Serving suggestions: with fresh whipped cream& strawberries, or drizzle with warm caramel or Kahlua, or glaze with mocha glaze (or some combo thereof!).
Instructions for Glaze:.
Mix dry ingredients together in bowl.
Dissolve coffee in 1 tablespoon of milk; add extract.
Whisk coffee liquid into dry ingredients; whisk until all blended and if needed, add 1/2 tablespoon more milk.
USE GLAZE IMMEDIATELY OVER CAKE. It will harden quickly.