Prep 20 mins
Cook 20 mins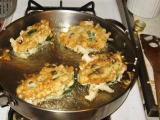 Serve as a side dish or as a light main dish. It doesn't get much simpler than this and you won't believe how good it tastes.
Directions
Boil the pasta in at least 2 quarts of water until it is tender, but not falling apart. Drain well in a colander (don't rinse!) and return right away to the warm cooking pot.
Cut up the butter into the pasta and add the grated Parmesan cheese. Add the salt, less if desired. Toss carefully and serve when butter and cheese have fully melted.
NOTE: Do not use the "green can" Parmesan cheese or you will be disappointed! Fresh Romano can also be substituted.
Most Helpful
This was good and easy to make. I followed the recipe exactly as written and my family enjoyed this as a side dish with burgers tonight. My hubby thought it needed some pepper and I would add some next time I made it.

This was pretty good. I only added 5 T of butter and still thought it was a bit too buttery. I also added a handful of frozen peas at the end as somebody suggested and thought that was really good!
Decadent side-dish! Very simple as the title says. It's so rich I don't think you would want much more than a side-dish portion at a time.