A S.1137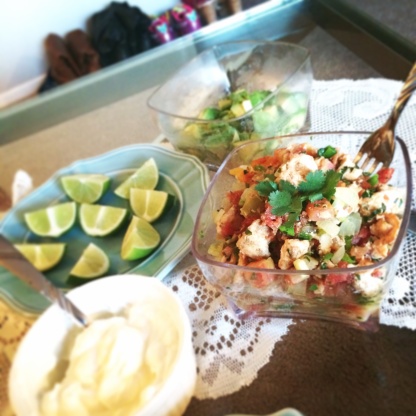 Absolutely, hands down, no doubt about it, the best recipe for fish tacos! Do your chopping ahead of time, as these tacos cook up fast! Fresh and light in taste, the flavor of delicious Alaskan Wild Salmon shines in this dish. You may also substitute halibut, or a similarly firm textured fish in place of the salmon. The leftovers are great served cold over a salad! I adapted this recipe from my mom's method of preparing salmon tacos.

OK, Fish tacos are supposed to be cool crisp and refreshing. Stewed tomatoes ? canned green chilis.

This is a good on the fly recipe but if you have the time you want crisp fresh vegetables to go with your fish of choice. I say keep looking.
Toss cubed salmon in cumin and chili powder. Set aside.
Heat large skillet over medium and cook yellow onion 2 minutes, until it begins to soften.
Turn heat up to medium high. Add salmon to skillet. Lightly sear salmon cubes for about 2-3 minutes, turning gently (don't break the salmon into pieces!).
IMPORTANT: Do not over cook the salmon. This juicy recipe will keep steaming the salmon. The salmon should still be firm in the middle of the cube when you proceed to the next step.
Return heat setting to medium. Add canned tomatoes and chilies, cilantro and green onions. Gently incorporate and heat through.
Squeeze quartered limes over the salmon mixture, give it a quick stir, and plate up the salmon (I usually drain a little liquid off at this point).
Serve with warm flour tortillas, quality salsa, sour cream, sliced avocado, and crisp romaine lettuce.