vicky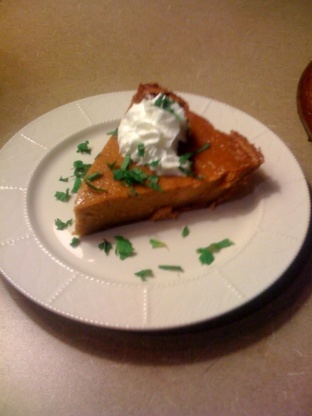 I have came up with this on my own. I have perfected it to the most amazing pumpkin pie ever.

Made for PAC Fall 08. Delicious and simple to follow instructions. Perfect for anyone starting out in pumpkin pie-making!
Cut and cook pumpkin. Preheat oven to 425°F.
USE A BLENDER, if you don't it will be stringy. Put pumpkin in blender with, eggs, sugar, cinnamon, pumpkin pie spice, salt, almond extract, and vanilla.
Put evaporated milk in a large bowl.
In the large bowl mix evaporated milk and every thing from blender.
You will need two 9-inch pie pans with crust.
Pour in and cook 425°F for 10 minutes than lower temperature to 350°F and cook for 60 minutes.