Amazing Peanut Butter Chocolate Chip Brownies
Prep 15 mins
Cook 35 mins
If you love peanut butter then this is for you, these are moist, rich and they bake out perfrectly, I made mine in an 11 x 7-inch baking pan but you can also bake it in a 13 x 9-inch pan and adjust the baking time slightly --- you don't need a mixer to make this everything is mixed by hand and you won't even need icing on these, just serve these topped with ice cream, yield is only estimated.
Directions
Set oven to 350° (set oven rack to second-lowest position).
Grease an 11 x 7-inch baking pan.
In a large microwave-safe bowl melt the butter.
Whisk in both sugars, vanilla and peanut butter until well combined.
Add in eggs; whisk/mix until completely combined.
In a small bowl mix together the flour, baking powder and salt; add to the butter mixture and mix with a wooden spoon until combined.
Add in chocolate chips or nuts (or use 3/4 cup of both!).
Transfer to the baking pan and spread out with a spoon.
Bake for about 35 minutes, or until the bars test done.
Most Helpful
So easy to make, and it tasted great too. I made mine in a 9x13 pan and baked it for 30 mins. I'll definitely make this again sometime. Thanks for the recipe!
Yum! I baked these in a 9 X 13 pan for 35 minutes and they are perfect in every way. We love the peanut butter and chocolate combination and these bars are oh so moist too! Thanks, Kit. :-)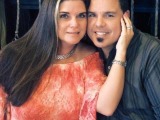 Took these to work and some people said they really liked it! No one said they didn't like it. I made a batch to yield 15 bars and used 3 medium eggs, kept the original 1.5 cups chocolate chips and used natural peanut butter. I thought the peanut butter flavour was spot on. They were a little crumbly but it's not a drawback. A tasty treat for sure.