Amazing Kahlua Baked Beans
Rita1652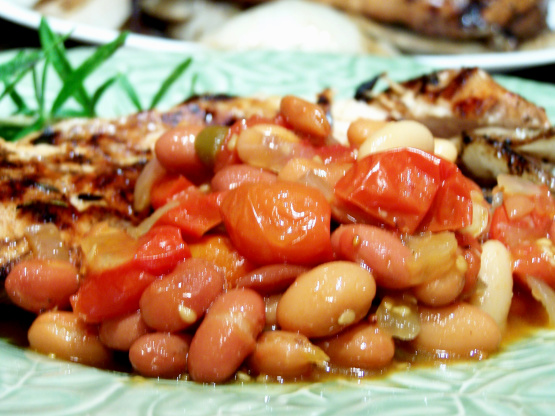 Perk up that same old boring dinner with these sweet and jazzy "baked" beans! Everything is done on the stove top using pantry staples and a few fresh ingredients for a FAST and simple prep yet a HOMEMADE look and taste! The leftovers freeze very nicely too, turning this into an OAMC dish too! Created for RSC 10. Good luck to all participants!

This recipe caught my eye as soon as I spotted it and it went on my must try list. I thought it was a very creative use of the ingredients. Both DH & I thought there was something lacking in this recipe flavorwise. The flavor was overwhelmingly tomato-ey and too acidic. I was expecting a sweet flavor with a coffee note in the background and was disappointed. I used the tomato paste option (and only 6 ozs). Maybe that is the problem. These are also prepared entirely on the stovetop and tended to stick unless the heat was very low. I thought it might have been better to place in the oven for the simmer period, but that would have eliminated the quick cooking aspect. I served with BBQ sandwiches and slaw. Thank you for your entry in RSC #10.
Sauté onion and bell pepper in a pan sprayed with cooking spray or a little olive or vegetable oil until they begin to soften. (I use a dutch oven but any large sauce pan will do).
Stir in tomatoes and tomato sauce (NOTE: if using paste mix with 8 oz water. ALSO, if you are using cherry tomatoes some tomato skin will remain in the finished dish. If you do not care for the skin please use the undrained canned tomato option.).
Bring to a boil, cooking until tomatoes break up, stirring often. If you prefer smaller tomato pieces help to break them up using the back of your spoon.
Once the tomatoes have cooked down to the size you prefer, reduce the heat to simmer and add brown sugar, Kahlua, maple syrup, Worcestershire sauce, mustard, drained and rinsed beans and salt and pepper to taste.
Cover and cook for 10-15 minutes.
Uncover and taste. Adjust seasoning if you desire, i.e., more salt or mustard etc --.
Leave cover OFF and cook for another 10 minutes or until the beans have reached the desired consistency. Stir occasionally.
Serve and enjoy!