Amazing Giant Chocolate-Toffee Cookies
JAG0913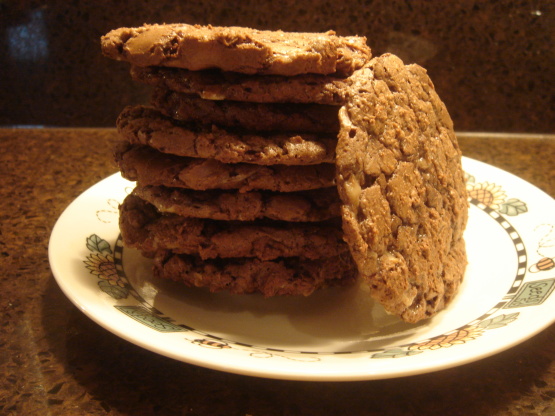 These are wonderful and oh so chocolaty! The toffee adds a really nice flavor to the cookies, too. These are big cookies--probably 4" diameter. So, you can make them smaller if you prefer. Prep time doesn't include time to chill dough.

Amazing cookie!
Used an icecream scoop and cooked for 30min-very large wonderful cookie.
Found skor bar bits in the baking isle..sold in a bag like to chocochips.
Thank you!!
Wish I had a picture to post but they were gone so fast lol and I doubled the recipie.
ps the star thingie did seem to work : this cookie is worth more than 5 stars.
Combine flour, baking powder and salt in a small bowl, whisk to blend.
Stir chocolate and butter in top of a double boiler over simmering water until melted and smooth. If you don't have a double boiler, you can use a sauce pan over low heat.
Remove pan from over water (heat) and cool to lukewarm.
Beat sugar and eggs in a bowl until thick (about 5 minutes) using an electric mixer.
Beat in chocolate mixture and vanilla.
Stir in flour mixture, then toffee and nuts.
Chill batter until firm (about 45 minutes).
Preheat oven to 350°.
Drop batter by 1/4 cupfuls onto parchment-lined cookie sheets, 2 1/2" apart.
Bake just until tops are dry and cracked but cookies are still soft to the touch, about 15 minutes.
Cool on cookie sheets.