Amazing & Easy Basic Crepes
Prep 10 mins
Cook 25 mins
I got this recipe from an OLD "Pillsbury Kitchens' Family Cookbook". I have been using this recipe since I was in High School, so that should tell you how EASY they are to put together and they are such a hit! You can do anything with them. Add fruits for a yummy breakfast dish, chicken and cheeses for a dinner dish (VERY good), or sweet fillings and powdered sugar for a dessert.
Directions
In medium bowl, beat eggs slightly.
Add remaining ingredients and beat until smooth.
(Batter may be covered and refrigerated up to 2 hours or cooked immediately).
Heat crepe pan or 7 or 8-inch skillet over medium-high heat (375*F).
A few drops of water sprinkled on the pan sizzle and bounce when heat is just right.
Grease pan lightly.
Pour about 3 tablespoons batter into pan, tilting pan to spread evenly.
When crepe is light brown and set, turn to brown other side.
Remove from pan.
Repeat with remaining batter to make about 14 crepes; stack cooked crepes.
Fill crepes with desired filling or cool, wrap and refrigerate up to 2 days.
FOR DESSERT CREPES, add 2 tablespoons sugar to batter.
To freeze, layer crepes with 2 sheets of waxed paper; wrap and store up to 3 months.
Reviews
Most Helpful
Such a great recipe to have in your arsenal! I topped ours with fresh lemon juice, zest and some cream. An easy treat that looks harder than it is!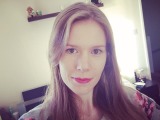 I love this recipe! Adding a little nutella on top when finished makes for a mouthwatering flavor! Thanks for the great recipe!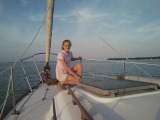 These crepes are super easy and delicious! This recipe is almost identical to the crepes I usually make - the only difference is that I add 2 tablespoons of sugar, as I usually make sweet rather than savory crepes.