Amazing Cinnamon Chip Scones
Bayhill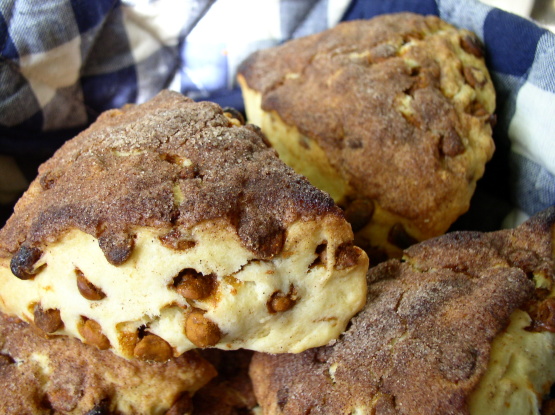 Melt in your mouth cinnamon chip scones.
Outstanding scones!! We loved these quick and easy, not overly sweet scones. My husband doesn't like scones that are sickening sweet, so these got two-thumbs up from him as soon as he took his first bite. I didn't have any buttermilk, so I used the common buttermilk substitution of 1 TBSP lemon juice in 1 cup milk and let it stand for 15 minutes. It worked perfectly in this recipe. Cinnamon baking chips are hard to find in my area, so when I find them I stock up and keep them in the freezer. I am always looking for recipes using these chips so I was thrilled to find this one. Thank you for sharing this wonderful recipe...it is definitely a keeper!! **Made for My 3 Chefs - October 2013**
Combine the flour, sugar, baking powder, baking soda, and salt in a large bowl.
Cut in the cold butter, with a pastry blender, until it resembles course crumbs.
Stir in buttermilk until moistened.
Fold in cinnamon chips.
Knead gently (10-12 times) or until dough is no longer sticky on a lightly floured surface.
Cut the dough in half. Then gently roll each portion into a 7 inch circle.
Brush each circle with melted butter.
In a separate bowl, combine the sugar and cinnamon for the topping. Then sprinkle the mixture onto the circles (You can add more sugar and cinnamon if you like).
Cut each circle into six wedges. Then separate the wedges and place on an ungreased baking sheet.
Bake at 425 degrees for 11-13 minutes or until lightly brown.