Amazing Cinnamon Apple Rice Stuffed Chicken Gfcf
chefRD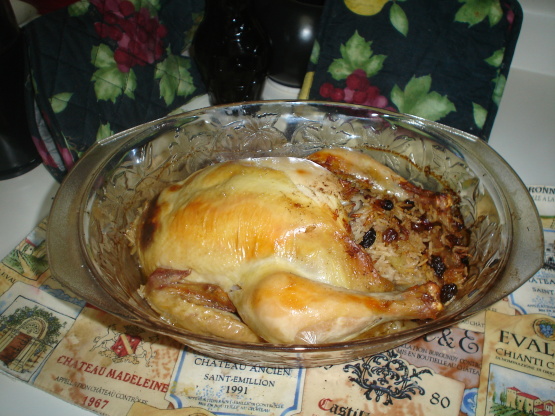 This is a different take on a traditional Persian dish that I love. My sister, Naomi and I came up with the recipe together. We were trying to use ingredients that would not only taste great for kids and adults alike but also follow a gluten free casein free diet for her son with Autism. When she served this for dinner to her husband, who is very picky, he exclaimed, "Wow,Amazing! You have to make this for Christmas dinner. The entire chicken disappeared very quickly and he was disappointed that she had not made two!

I have not made this yet, but it sounds delicious! We are in our second week of the GFCF diet for our autistic daughter and adhd son and I have to tell you, I am struggling to find good recipes that don't require a bunch of strange, expensive ingredients. I was so happy to see this...THANK YOU, THANK YOU, THANK YOU! ChefRD and sister, Naomi, I'd love to hear about more recipes if you have them!
Wash the chicken in cold water, and clean the inside cavity out too. Then pat dry and rub with 1 tsp of salt. Then move chicken to greased baking dish/roasting pan.
In a skillet, heat 1 tbsp oil over medium heat. Add the uncooked rice, cinnamon, orange peel, 1 tsp salt and pepper. Stir fry for 2 minutes.
Add chicken stock, cover and simmer over low heat for 20 minutes. Please make sure your to cover the rice, it needs to be cooked prior to stuffing into the chicken.
Preheat oven to 400 degrees.
Add the raisins, orange cranberries, lemon juice and chopped apples. Mix together and then remove from heat.
Stuff the chicken with the rice stuffing mixture. Preferred method: Melt 2 tbsp butter and pour over stuffed chicken. Rub melted butter over all areas of the chicken. (If making the casein free version use margarine instead of the butter.).
Cover with foil or baking lid. Roast for 1 1/2 hours till tender.