gailanng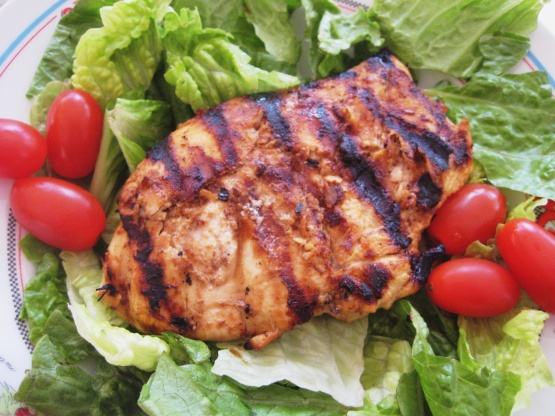 This recipe came from Allrecipes (Ruth Crickmer). My whole family loved it even though it cooked too fast. The original recipe said 'high heat' on the grill, which my husband did. It ended up cooking 8 minutes total, charred but not burnt tasting, and very juicy and flavorful. We'll turn down the heat next time for texture, but this is a keeper in our home!

Really very good, and easy to make with things you probably have on hand already (except the lime, in my case). I only marinated the chicken for 40 minutes, because I'd heard that any marinade with lime should be used for 1 hour or less for the sake of texture. The chicken was flavorful, juicy, and tender! Next time I may up the marinating time to 1 hour, but I'll probably max out at that level just because I can. I served it to my husband and 2 year old with oven roasted red potatoes, white corn, and crusty bread. Even the 2 year old liked it! Not overly citrusy or vinegary - just savory and just the right amount of sweet. Delicious! Thanks for posting!
In a large, non-reactive container, whisk together ingredients beginning with cider vinegar through salt.
Then whisk in olive oil and pepper.
Place chicken in the mixture.
Cover and marinate chicken in the fridge 8 hours or overnight.
Remove chicken from marinade just before you turn on your grill or broiler to let come up a few degrees.
Discard marinade.
Lightly oil your grill or broiler pan.
Grill or broil about 10 minutes per side.