Amazing Broccoli Cheese Casserole
loof751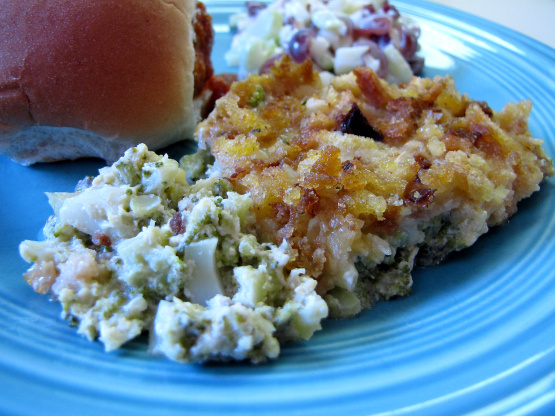 This recipe is one that I worked hard to get off a family member because it's so good. It's made for every family gathering and special occasions and everyone just goes crazy for the stuff. Give it a try and you won't be disappointed. Makes a great side dish.

We loved this broccoli casserole! Different than any I've made before but so good. I don't care for onion so used some chopped celery instead. I just used a little cheese whiz and sprinkled cheddar on with the stuffing mix as indicated in the directions. The whole family enjoyed this - thanks for sharing the recipe! Made for Fall Pick-A-Chef 2011
Cook broccoli 10 minute and drain well.
In large bowl combine soup, mayo, eggs, onion, cheese whiz, salt and pepper.
Stir in broccoli and mix well.
Spoon into 9x13 inches baking dish.
Sprinkle with cheese.
Combine 1/4 cup melted butter and stuffing and sprinkle over broccoli.
Bake, covered for 45 minutes in 350 degree oven.